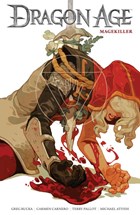 From the publisher:
Legendary writer Greg Rucka begins an all-new story set in the immersive dark fantasy world of
Dragon Age
!
Tessa and Marius are mercenary partners united by an unbreakable bond and compelled to eliminate those who use magic to hurt others. When they betray a powerful patron who intended to kill them once their job was completed, they're forced to run and join the Inquisition. With the breach in the sky tearing the world apart, there's more to fear than Venatori and an angry former employer. Can Tessa, Marius, and the Inquisition overcome the greatest threat Thedas has ever faced!?
Collects
Dragon Age: Magekiller
#1—#5.
Dragon Age: Magekiller by Greg Rucka is a limited series based on the Dragon Age video games. First, I haven't played the games, and have no knowledge of the storylines, so I can't judge whether this graphic novel fits in or not; I'll be reviewing it solely on its own merits. And as far as that goes, I liked it.
Rucka tells the story of Marius and Tessa, two mercenary mage killers, who get wrapped up in bigger and bigger conflicts. They first get involved in a plot to assassinate powerful mages for the ruler of a country, which leads to an infestation of demons, which leads to working for the Inquisition, which leads to, well, you get the picture. This is a standard sword and sorcery-type story, and it's fun. There isn't a lot of depth with the characters, although both Marius and Tessa show flashes of having the potential to become very interesting leads (maybe Rucka can explore this in future volumes). There is a lot of action and adventure, some bad guys, monsters, and demons, and a hint of romance.
I thought Greg Rucka did a nice job with Dragon Age: Magekiller. It was a fun, easy, adventurous read. I would recommend this book to fans of the Dragon Age game (I'm curious how it fits in) and anyone who enjoys sword and sorcery tales.
I received a preview copy of this book from Dark Horse Comics and Netgalley in exchange for an honest review.