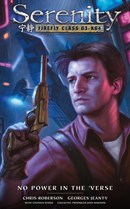 From the publisher: Tough times haven't ended for Mal Reynolds and his crew aboard the Serenity. When a call for help to find a missing friend takes them to an Alliance post on the Outer Rim, they encounter a new force building strength to fight the battle of the Browncoats—soon leading the crewmembers to question their individual values…Discovering that their friend is in Alliance custody and that an Alliance Operative is on the way, Mal concentrates his energy on the problem at hand and strikes an uneasy partnership for a daring rescue. But this is only the beginning of the story. Success will be when the Serenity's crew makes it off this planet alive and all accounted for…
With Serenity: No Power in the 'Verse, Chris Roberson has done a fine job of continuing the Serenity saga while expanding on it, both by filling in details and opening up a future's worth of stories.
This latest Serenity collection finds Mal, Zoe, and the rest of the crew looking to rescue a friend of theirs from the Alliance. In the course of their mission, they encounter a new group of Peacemakers, a woman named Kalista with a group of girls who have been trained/conditioned like River, a Companion colleague of Inara's, and perhaps the start of a bigger place in the 'Verse for the Serenity crew.
No Power in the 'Verse has everything fans of the tv show have come to expect. There is action, a plan that doesn't work out exactly as hoped, humor, swearing in Chinese, Jayne doing stupid stuff, Mal acting with integrity, and River kicking butt. There is a resolution to the story, as well, but the end contains a springboard to what could be a much larger tale for the Mal and company in the future.
In addition to the main story, there is a short story by Chris Roberson, The Warrior and the Wind. River tells Zoe's daughter Emma the story of the Serenity crew (both tv and movie stories) with a touch of fairy tale about them. It was cute and touching, and a nice way to catch new readers up on what happened in the past.
Overall, I recommend Serenity: No Power in the 'Verse by Chris Roberson. This is a must read for fans of the tv series, and would be an entertaining story for readers looking for a good, old-fashioned space western.
I received a review copy of this book from Dark Horse Comics in exchange for an honest review.